Hallo Student Spotlight: Susan | The Power of Perspective
Though originally from Indonesia, Susan has lived in Singapore for the last five years working to support her family. Being away from her loved ones is a tough situation, but her relentless effort and positive attitude keep her going. 
"Life is not like I planned. I am here to support my family, and I'm trying to build confidence." 
In response to whether she likes Singapore, Susan says, "It's not really about liking it or not. It is all about choice." 
The choice to be positive, the choice to work hard, the choice to get up each day and make the most of it . . .
Susan knows that the power of perspective is greater than the power of circumstance.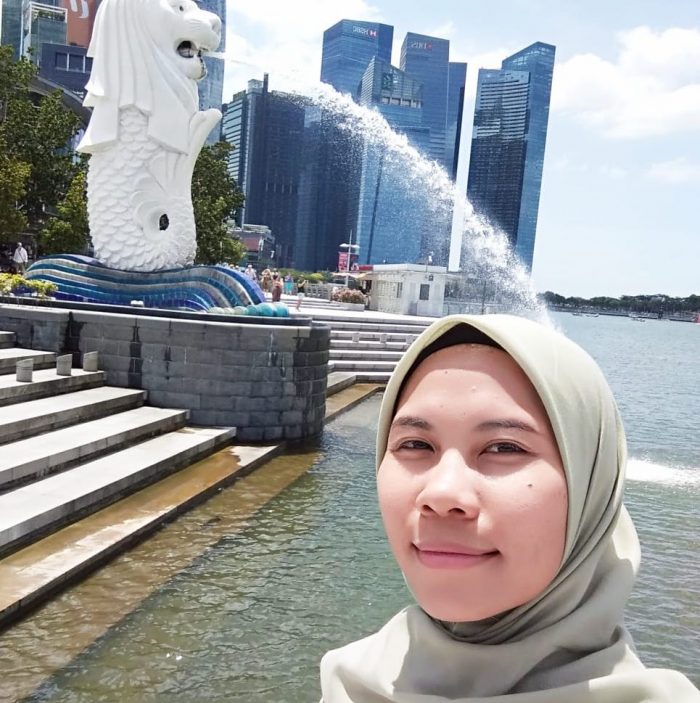 Susan has a passion for reading books. She finds reading to be an effective tool for seeking inspiration that can strengthen her during trying circumstances. 
"I'm the only one who can change my life. . . . There are people who love and support me, but I'm the one who decides." 
One of those supporters is Susan's mother: "She is the person who always believes in me no matter what I choose." 
Choosing to Learn English
People in Indonesia speak Bahasa, not English. When Susan moved to Singapore, her English speaking abilities were quite basic. She often felt discouraged when people communicated with her in English yet she failed knowing how to respond. In moments like these, she wanted to stand up for herself but didn't know how.
So she decided to go all in. Susan committed to learning English and started her journey with a book and a newspaper. With practice and dedication, she can now carry on a conversation. Susan worked hard to communicate with those around her, but a task once heavy and difficult is now achievable and fulfilling!
Susan loves Hallo because it gives her the opportunity to connect with people of different backgrounds and lifestyles. She finds herself often motivated by someone else's story, which is a notable lesson for us all.
Despite her introverted tendencies, Susan's job as a domestic helper requires her to stay inside nearly all day. Human interaction can be scarce. Thus, being able to chat with her fellow Halloers means much more to Susan than just learning English. 
Susan mentions that many people in Singapore are bilingual with unique accents, and they can often be challenging to understand.
But in regard to English, Susan exclaims, "I love listening to native speakers—they are very clear. Listening to them has really helped me . . . improve my speaking skills." 
Susan also wants to compliment many Hallo teachers who have "great smiles!" They make learning enjoyable, not just requirable.
Susan has noteworthy dreams and a resolute mindset on ensuring they come to pass. For instance, Susan wants to finish her education at a college/university and then start her own business. 
Given that English dominates the internet and social media, Susan believes that learning the language is pivotal to her success as a business owner. 
Her long-term goal is to run a non-profit organization that provides English learning opportunities for children. The language has opened up remarkable doors for her socially and economically, so why not share those privileges with others? And why not start young?
Though this is her vision, Susan knows that before she can "stand up for other people," she has to "stand up for [herself]." We join in Susan's wish for her to return home—the place where she feels comfortable. But until then, and even after that time, Susan can rely on her Hallo family! 
We're grateful to have Susan's presence and participation in the Hallo community. She is optimistic and invigorating, a motivating example to everyone.