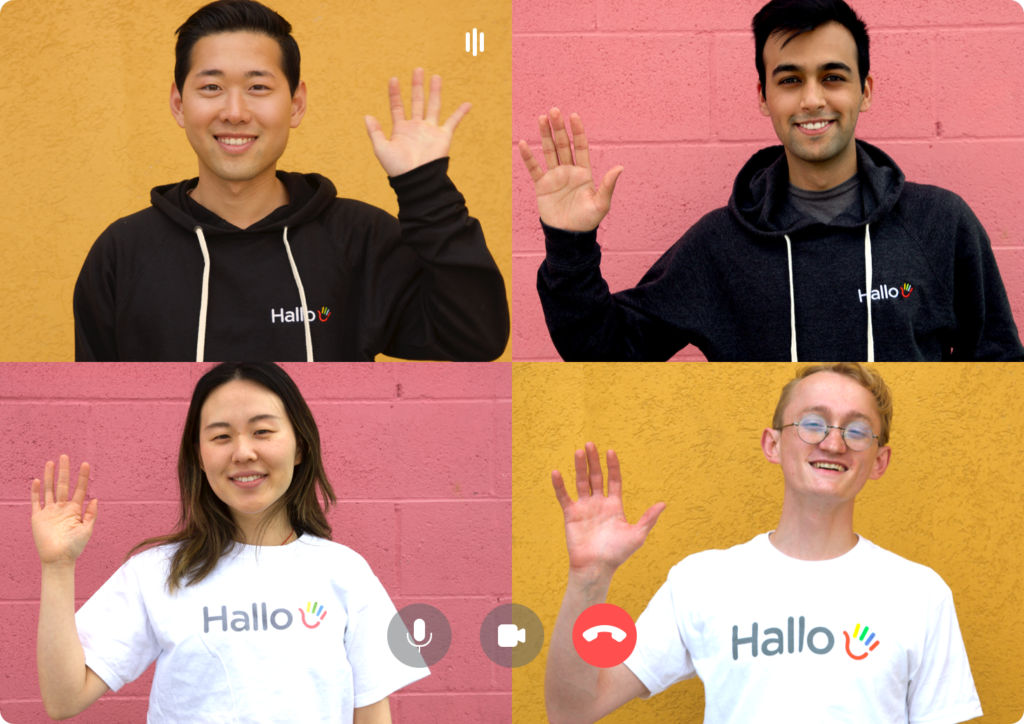 Hi English learners and language enthusiasts!
Learning English and any language in 2021 has never been easier. From apps that help you memorize and apply vocabulary and grammar to live interactive English lessons and courses designed for career exploration, advancement and university admissions, there are an abundant array of options, both free and paid, to help you work towards your goals.

Online English learning platforms are becoming the new classroom. Say adios to in person classrooms. Online learning is effective for many reasons. I like to think of it as combining the best of both worlds: learning from a human combined with the benefits of online resources and technology to help you master English and become fluent. 
Learning English and becoming fluent opens doors that will enrich your life with new people, experiences and opportunities. Today, I am going to walk you through the best online English classes and courses to help you find the best option one, whether you like learning 1 on 1 with an English tutor or prefer a small group of students to practice and progress together with. Let's dive in!

8 Best Online English Courses and Classes (Private & Small Group)
As someone who speaks multiple languages, as well as taught English for many years, I understand how difficult it can be to find the best option that fits your needs and learning style. 
For this reason, I have organized the top-rated and most popular English learning courses and classes based on your learning style and preference into two categories: Private and Small Group Learning

Group – Small class of students for those looking to practice with classmates in a fun interactive way taught by certified English teachers.

Hallo
Lingoda 
Babbel 
Open English 
Private – 1 on 1 learning format for a more personalized and tailored learning experience taught by certified English teachers.
iTalki
Cambly
Ringle
Preply
Small Group English Classes

Hallo - Online English Classes and Clubs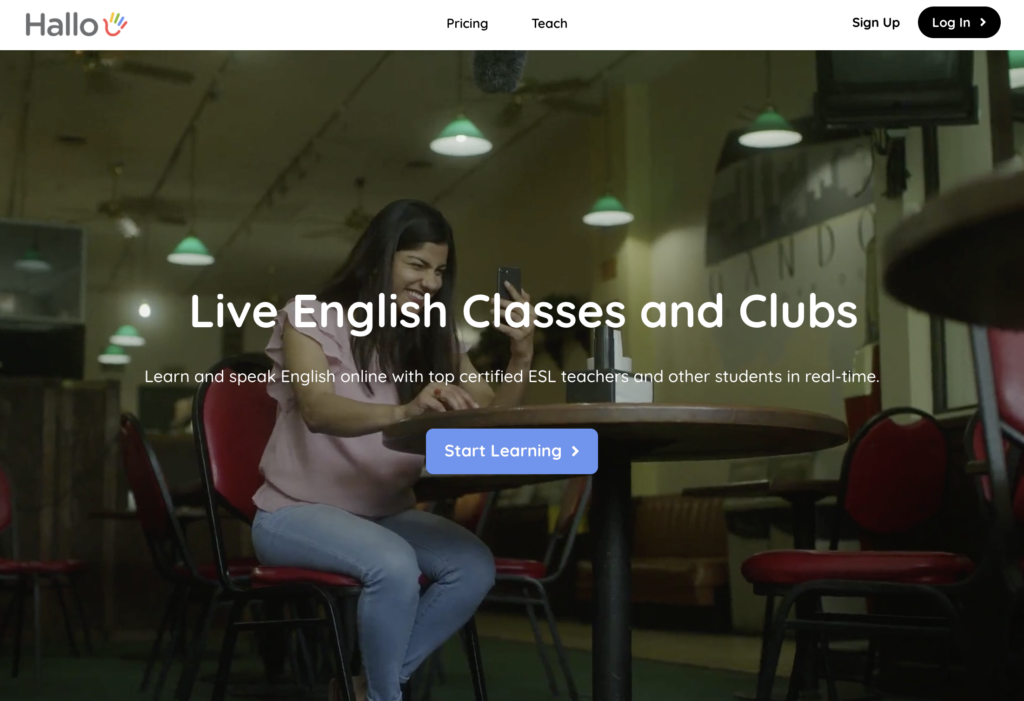 Hallo is an online English community that offers English courses, classes taught by Native speaking English teachers in real-time. In addition, it offers clubs (think clubhouse) where you can join a live audio or video stream with other English learners on topics you are interested in. Lastly, students can choose from a variety of topics to explore different career opportunities and interests when taking courses.
By combining both structured learning in small and private classes with the fun and interactive style of live stream conversations with other English learners, Hallo provides tons of speaking practice for English learners to build confidence, overcome their fear of speaking and become fluent.
With over 20,000, 5 star reviews, English learners love the strong student community Hallo offers as it provides a fun way to connect with others around the world and learn together. Hallo takes pride in working with the best English teachers to create a fun, welcoming and encouraging learning environment to help you learn new skills, meet new people and explore new job opportunities. This might just be the secret to becoming fluent. 
Lingoda - Online English School
Lingoda is an online English school that offers small group or private classes. What makes Lingoda unique is they offer classes that focus on real life topics that are relevant so you retain the grammar and vocabulary you are learning. There is nothing worse than learning boring material. Lingoda makes learning fun with highly qualified teachers and different learning options based on time commitment. Their Marathon Courses are super helpful based on many youtube reviews of language learners.
Lingoda offers lessons on English, business English, German, French and Spanish. It is one of the top rated Online English Schools on Trustpilot. What I love about Lingoda is their approach to live interaction and customized feedback from a real person. Group learning is becoming more popular because it is effective and motivating when you have others to support and help you. Lingoda offers competitive and fair pricing compared to other options.
Babbel - Language For Life
Babbel is an app and online learning platform that captures most of the language learning journey. Not only does Babbel offer tons of content and lessons designed around real life experiences, but they also offer live English courses taught in group or private settings. If you buy a lesson with a teacher, you get free access to their app that has lessons designed by linguist professionals focused on realistic scenarios.
Babbel has thousands of 5 star reviews speaking to how simple, fun and effective it is. Babbel is surely making an impressive product, making it great for people learning languages as a hobby or for those that want to bring their speaking skills to the next level with a private or group lesson. Their focus on real-life applications is making them truly unique and differentiated from others. Lastly, pricing is competitive, especially if you buy a bundle of 20 lessons.
Open English - English Learning for Spanish Speakers
Open English, a live online English school, is the largest and most popular platform for native Spanish speakers learning English. They offer 30 minutes live classes, 24/7 taught by native speakers. Whether you want to prepare for the TOEFL, IELTS or TOIC or just improve your speaking by earning certifications to prove your fluency, this is worth exploring.
Open English also has an interactive student community. As many education professionals would agree, student led learning is critical because it is more effective and creates an accountability group to keep students motivated and engaged. While the platform seems outdated compared to newer modern platforms like Hallo, Lingoda and Babbel, it might be worth looking looking into.
iTalki - Learn a Language Online
iTalki was one of the first platforms to enter the language learning market years ago and is still widely recognized. It offers 1 on 1 private lessons in any language focused on quick connection and practice. iTalki provides some of the most affordable pricing in the industry with teachers from all over the world. In a simple way, language learners can search for teachers based on their rating and background. They also offer a student community where learners can interact through text forums. 
In short, iTalki is great for in the moment help with language learning due to its expansive network of teachers that can cover any topic you could imagine. It is also the most affordable of all the options analyzed. While customer reviewers are on the positive side, long-term learning and finding a good teacher seem to be hit or miss. 

Cambly is an online tutoring platform that connects English learners with teachers from around the world. They take pride in pairing English learners with "dynamic, patient and friendly native speakers", 24/7. Cambly offers all of its services on its own platform making for a seamless experience. Furthermore, you can choose a course that consists of a series of lessons that you are interested in. That way, you can learn English while also learning about the things you are curious about. Some of the course topics they provide are fundamentals in english fluency, professional development, self expression and exam preparation.
Pricing is competitive at Cambly. Based on how much you want to practice, you can buy a subscription plan that works best for you. For example, if you want to practice for 30 minutes, 2 days per week, a monthly subscription would cost $85/month.  A quarterly would cost $77/month and a yearly would could 64/month. The quarterly option gives you 10% off, while the yearly gives you 25% off. 

Ringle - Premium 1 on 1 English Lessons
Ringle offers 1 on 1 premium online English lessons taught by current and graduated students from the best universities in the world. This unique approach allows Ringle to deliver lessons taught by qualified, smart and professional tutors. You can even find a tutor that has similar academic, life and professional interests to find the best fit.

Ringle offers over 290 topics on business, politics, economics, culture, sports and more with new content being released every week. Instead of offering courses, you can buy any amount of lessons and choose the topics you want to learn most about. Some of the categories you can choose from include correct pronunciation, exam prep, editing emails/essays, prep for interviews, business english, general english, pre-college students, and career/professional. This allows for a highly customized experience. It is important to note that all these services come at a premium price, one of the highest in the industry outside of professional consulting/coaching.
Preply - Online English Tutors
Preply offers private online lessons to improve your English. With over 20,000 English tutors, you get expert, certified tutors at affordable prices with flexible scheduling. By focusing on the skills you need and the problems you need help with, you can progress with a tutor of your choice. Preply offers a wide variety of content and topics to help you reach your goals. Paired with its competitive pricing and flexibility in finding a tutor, Preply offers a valuable experience that is worth looking into.
Last of all, it is worth noting that Preply is the only online tutoring company that offers services for those who struggle with learning disabilities like ADHD, Dyslexia and Asperger's syndrome. On the pricing spectrum. Preply falls in the middle of offering competitive and affordable tutoring which reflects its commitment to quality. 
Why Learning English Online is the Best Way to Learn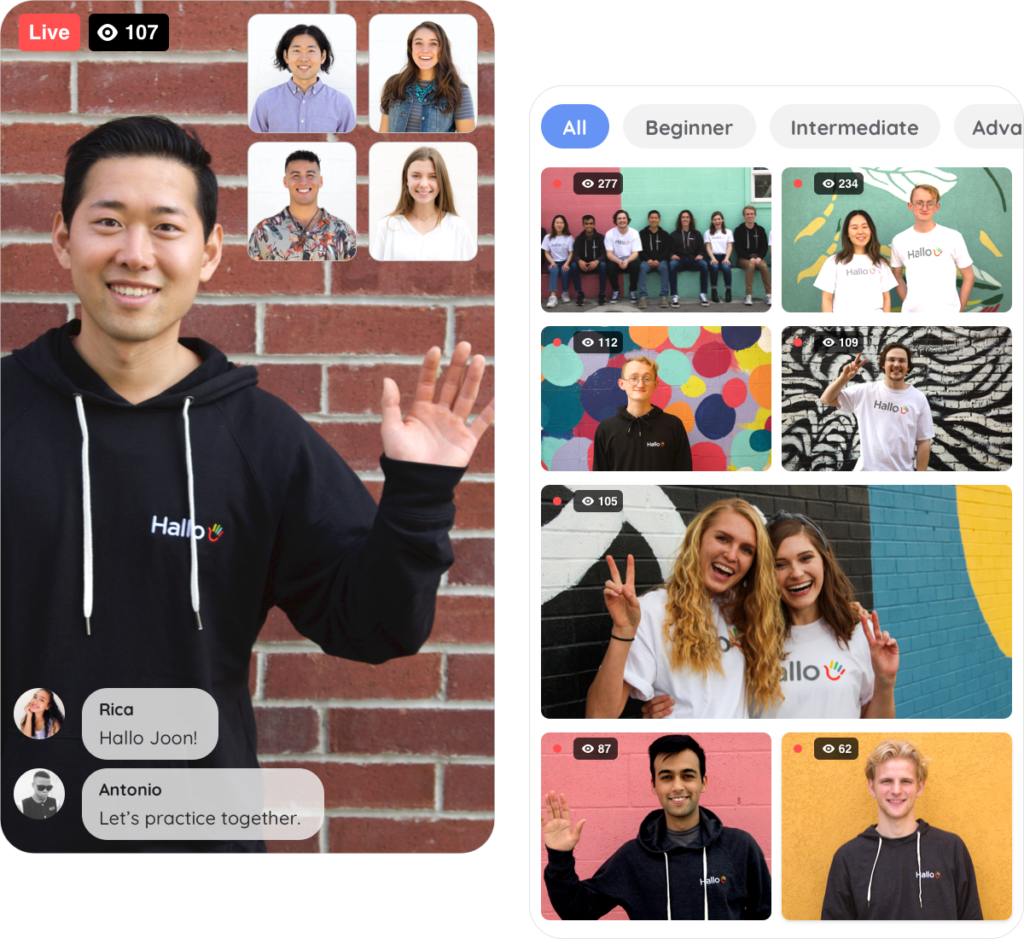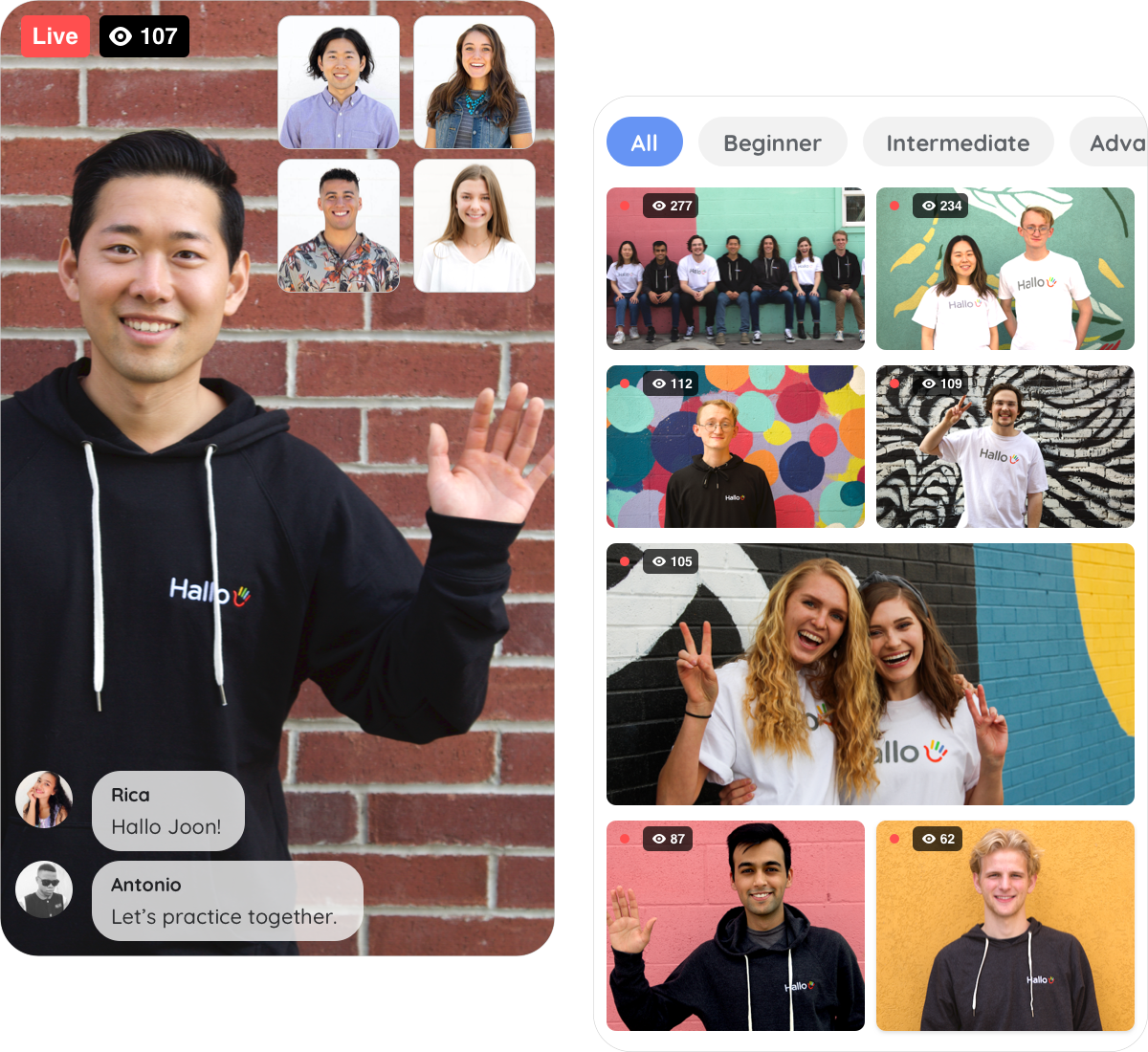 In-person classes are old, expensive and ineffective. Newer online platforms, apps and marketplaces offering customized, effective and affordable learning options are gaining lots of attention. Why? Because English tutors and English learners are finding it effective, affordable, fun and convenient. Exploring your interests and learning new skills for career advancement has never been easier. Below are five advantages of learning English online.

Learn from anywhere
We live in a busy world that competes for our time and attention. Instead of losing time in commuting and stressing out over endless traffic, you can take learning into your own hands. Whether you want to learn in your pajamas (aka pjs), at a coffee shop or by the pool, as long as you have a phone or laptop, you can take online english classes and courses whenever you want, 24/7.

Affordable classes and courses
Say goodbye to expensive and boring traditional education. Technology has made online learning popular and effective. For example, with small group classes, you can find cheaper options which are often more effective for your personal learning style. Plus, learning and progressing together with a group of dedicated students makes learning more fun, personal and motivating, especially when you need some encouragement or want to talk with someone. And of course, there is always room for 1 on 1 private lessons with English tutors. It just depends on your learning style and what you need help with.

Meet new people and make connections
No one wants to be alone. We are social creatures and we thrive on meeting and bonding with others. Learning a language online allows you to meet people and experience cultures around the world. Many of us don't have the time or money to study abroad or to pack and leave for a few months. Thanks to technology, we can connect with others online and make close friendships. This is how we can make online language learning immersive and fun. Just think social media meets education!
Career advancement and exploration

It is likely that you will make new friends and professional connections while learning a language, especially English. This can be extremely fulfilling. For example, your connections can help you get a referral, land a new job, and explore different careers. By building your professional and personal network, you will find more opportunities in life. At hallo, this is a big focus for our community.

Track your progress online
As the saying goes, if you fail to plan, you plan to fail. Thankfully, most online learning platforms have helpful tools to help you stay on track and reach your goals. They can organize your notes, vocabulary lists, quizzes and exams. This will help you identify your strengths and weaknesses so you can study smarter and more efficiently.
There are even powerful AI tools that can measure and assess your accent, pronunciation, sentence structures and more. In fact, Hallo uses the most advanced AI speaking assessment in the industry. Our vision at Hallo is to help learn even when the human tutor is not there. The more you practice speaking English on Hallo, the more Hallo can help you improve your speaking and grammar to become fluent and speak like a native

Happy learning!
The Hallo Team