English Courses Designed to Prepare You for Your Career
Learning English is challenging. What is even more challenging is getting a job you love and finding people that can relate to you and help. Sometimes, it can feel lonely and discouraging when you feel you are not learning as fast as you would like, but when you do see yourself and your friends progress, it can be extremely fulfilling. Becoming a confident and fluent English speaker takes courage, self-love and hard work. The same applies to landing your dream job.
To help solve this problem, we made Hallo Courses to help prepare you for your future career and Clubs (think live audio/video conversations) to connect you with like-minded people around the world to learn and be inspired from.  Our focus on small group learning and creating a powerful and engaging student community is what makes Hallo unique. 
A Sneak Peek Into Hallo Courses for English Learners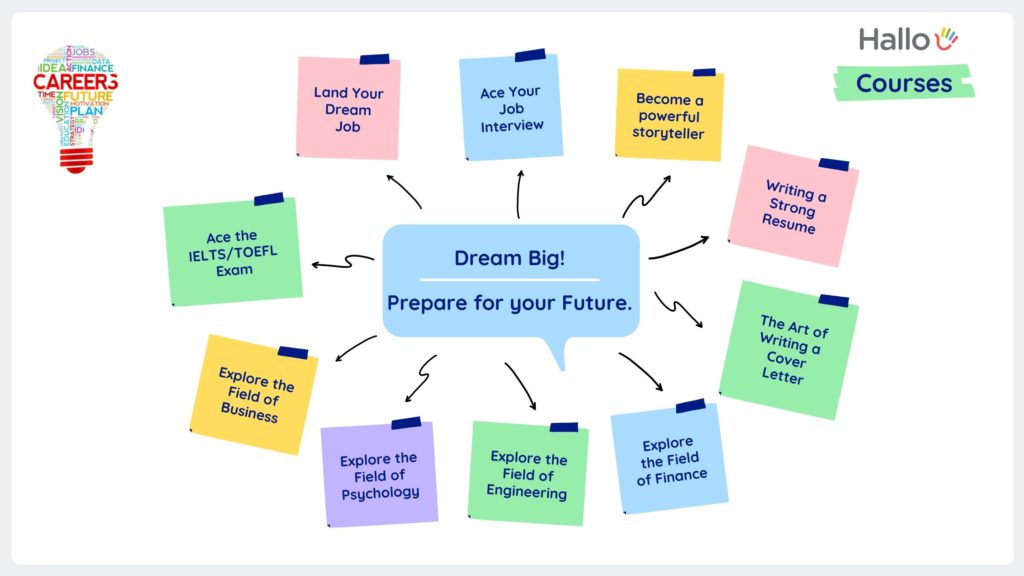 Based on lots of student surveys and research, one of our most anticipated courses is "How to Land your Dream Job". The final project is a mock interview where each student will be assessed by the teacher and get valuable feedback. 
Currently, we are working on a developing a 3 month long course teaching you how to find, prepare and land your dream job. The content of this course has been designed by the latest best practices and subject matter experts
Furthermore, we plan to create courses that explore the fields of business, finance, psychology, engineering—just to name a few— to help you learn about them and know what career opportunities exist within them. In addition, we plan to offer courses that will help you learn important life skills like personal finance, relationships/dating and mental health. 
We are so excited to launch these courses as well as make new ones that our students suggest. If you would like to learn more about these courses and when they will be available, drop us your mail and we will keep you in the loop. 
Small Group, Cohort-based Courses are Effective
So what makes Hallo's learning method so effective? Well, let me walk you through it! 
First, our focus is not just on helping you become a fluent and confident English speaker. Our bigger focus is preparing you for your future. This means equipping you with knowledge and skills to have a successful career and live a happy life.
Second, we focus on small group (3-5 students), cohort learning. Cohort is a funny word for some, especially for English learners as it does not translate well into other languages. Just think of university or grade school. A cohort is the group of students you completed each semester or year with. Students begin at the same time, work on projects and assignments inside and outside of class, and end class with a final exam or project. 
The opposite of cohort learning is self-paced learning. While this can be an effective learning style for some, it is not for everyone. 
Looking at the graph above, cohort-based courses have a 96% completion rate compared to just 3 to 6 percent of open online courses that are self-paced according to a recent study by researchers at MIT.
The real advantage of learning with your peers in small groups is the skills you develop along the way. Learning to work with others, how to communicate effectively, how to overcome challenges, how to plan, how to delegate tasks and learning how to lead are all unique benefits from studying and learning in small groups. 
The Hallo Framework and Course Breakdown
Hallo Courses range in duration from 1 to 3 months. Students meet 2 times a week with the teacher for 1 hour. Outside of class, students meet together in study groups virtually to work on specific activities and homework for 1 hour. Each class and study group has a specific focus and purpose, so no busy or boring work!
During class, teachers provide constructive feedback, teach new concepts, answer questions and prepare students for the final skills-based project or presentation. 
Study groups are where much of the magic happens in learning. We like to think of it as a place where fluency and knowledge are shared and created.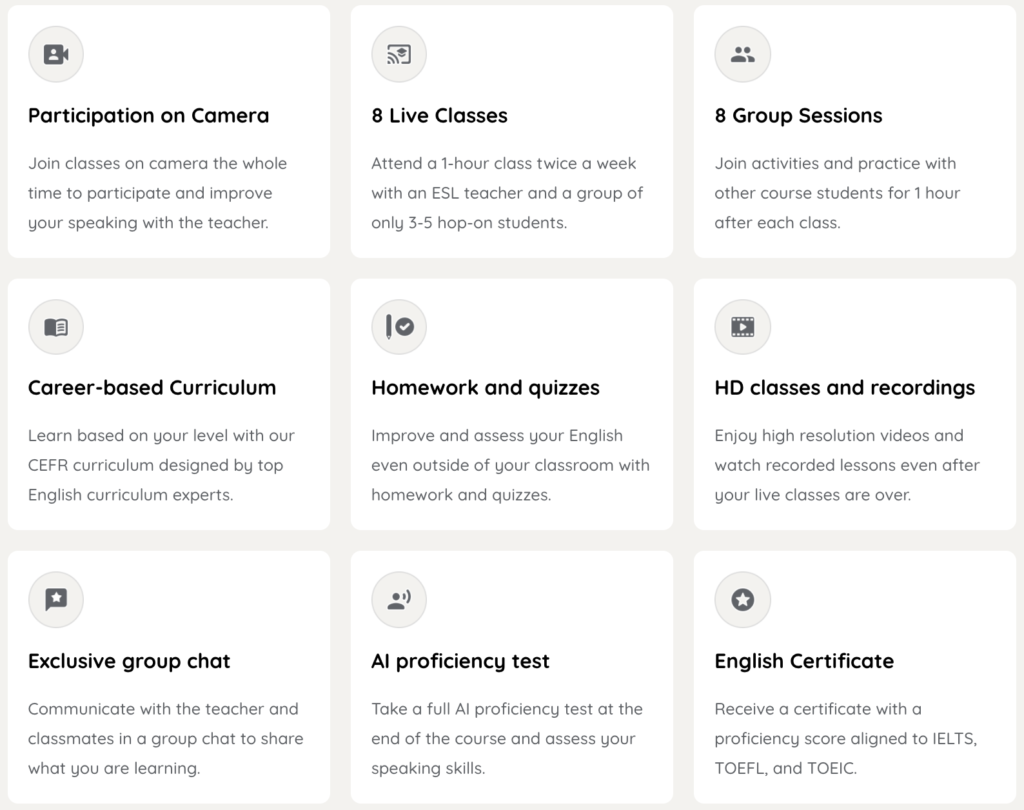 From our experience teaching, these are some of the magical moments that strengthen bonds and friendships among students:
Helping a struggling classmate learn a difficult concept that you were able to learn.
Being inspired by an accomplishment or specific action a classmate took.
Finding clarity and direction in your life concerning your career, education or just general life advice. 
Working on a project together and seeing your hard work materialize.  
Always being present to help, motivate and learn from others. 
Learning cool things from your teammates, especially how they overcame a specific challenge.
Witnessing a classmate graduate university, find a job or get a promotion.
Developing close friendships that will last a lifetime. 
Seeing yourself learn and grow and feeling the happiness that comes from it. 
Backed By the Best Guarantee
We are confident in our approach to helping you become a knowledgeable, fluent and confident English speaker. Furthermore, we know the knowledge we share in our courses is back by research and all the best practices to ensure success. While we cannot guarantee specific outcomes, what we can offer is a 100% refund if you feel you did not learn things helpful to prepare you for your future and that your English did not improve. 

If that happens, just speak to someone on our team about your experience so we can learn from it and improve. We will then offer a refund or course credit, whichever you prefer. 

We look forward to seeing you in one of our next courses!